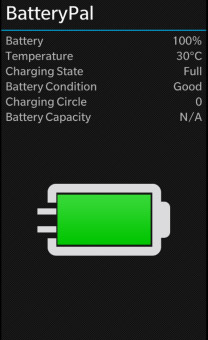 Tag:
BatteryPal
Overview :
BatteryPal update to v1.0.8.1 for blackberry 10 apps
File Size: 37 KB
Required Device Software:
BB10 Smartphone: 10.0.0 or higher
Model:
Blackberry 10 Devices: Blackberry Dev Alpha, Blackberry Z10, Blackberry A10, Blackberry Q10, Blackberry Q5
Description:
BatteryPal displays your battery info and real time status with active frame support. It's native and small, designed for all-time background running with 0 battery cost.
Features:
1.Battery percentage (Active frame support);
2.Battery temperature (Click it to switch Celsius/Fahrenheit)
3.Battery charging state
4.Battery condition
5.Battery charging cycles
6.Battery capacity (N/A: if your device or OS doesn't support this)
More functions are coming, get it now while it's still free!!!
Rate 5 stars for me if you find it useful, thanks