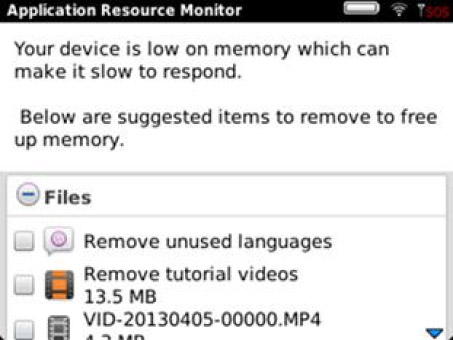 Tag:
Resource
Monitor
Overview :
BlackBerry Application Resource Monitor 3.0.0.23 for bb os7.0+ apps - Use the BlackBerry Application Resource Monitor v3.0 to keep your smartphone running smoothly. The application continuously monitors your smartphone for optimal performance. You don't need to worry about configuring the application, just pay attention to the Today view for notifications and take the recommended action(s) when it's most convenient for you.

Version: 3.0.0.23
File Size: 390 KB
Required: 7.1.0 or higher
Model: Blackberry 9220, 9300(Kepler), 9320, 9330, 9350, 9360, 9370, 9380, 9620, 9790, 9350, 9360, 9370, 9850, 9860, 9900, 9930, p9981



Description:
In addition to the features included on version 2.0, this new release of ARM 3.0 provides the following enhancements:
Enhanced Low Memory Recovery Option – This new feature monitors the available free memory; when your smartphone is low on memory it can become less responsive. When low memory triggers the option, a notification in the today view displays, with a "Memory is Low" message. After you click the notification, some notification options will help you to recover the smartphone's memory.
The new options include:
• Applications – You can remove applications installed but not used since the last reboot, sorted by size. The applications can be reinstalled at any time by accessing the My World section of BlackBerry World.
• Files – Some models prompt you to select files to delete if you have files (Documents and Media Files) stored in internal memory. A preview hint is provided for media files, in case you are not sure what to select. To preview the file, leave the cursor over the file for about 1 second. There is also an option to remove tutorial videos and unused languages.
• Email Messages – You can select different options to remove older emails, which can consume smartphone memory, from your smartphone according to the specified range.
• Text Messages - You can remove older text messages. The text messages are removed permanently from the smartphone.
Move files to SD Card – If you have an SD card present on the smartphone, this option allows you to move all of your files to the SD card, recovering the smartphone's memory.
Monitoring optimization improvements – The new version of BlackBerry Application Resource Monitor is optimized to better detect abusive processes that might degrade the smartphone's performance. These improvements also improve the detection of available free memory, making the application more responsive.
**Application Resource Monitor v3.0 is only available for BlackBerry 7.1 smartphones