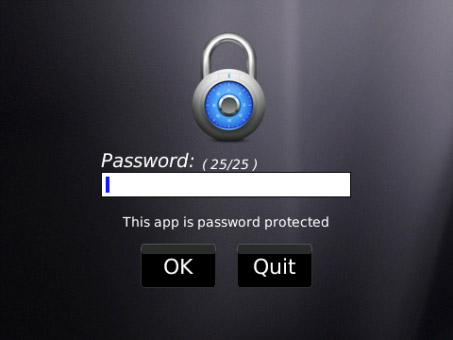 Tag:
Secret Box
Overview :
Secret Box v1.0 for blackberry apps - Just receive or send Secret SMS (Tiger Text) SILENTLY without displaying on default SMS inbox.

file size: 643 kb
Model:
Blackberry 89XX Curve Series (480*360): 8900(Javelin), 8910(Atlas), 8930, 8950, 8980/Blackberry 90XX Bold (Onyx) Series (480*320) Devices Models: 9000, 9020(Onyx)/Blackberry 96XX Tour (Niagara) Series (480*360):9600, 9630, 9650(Tour2), 9700(Bold2), 9780, 9790, Dakota, Apollo



Description:
Secret Box is a utility application which provides you with a Secret SMS Environment to receive or send secret message to particular secret people.
Using Secret Box, all secret SMS from secret people will be stored directly in Secret Box.
All messages stored in Secret Box will be protected by your own password to restrict access by someone else.
Besides that, you are able to enable the notification LED to alert you when you receive any secret message.
Full Feature:
1) Receive or Send secret messages (Tiger Text) silently.
2) All secret messages will not be displayed on default SMS inbox.
3) Provide you with a Secret List to define particular people to send or receive their messages secretly.
4) Notify you with customized LED light when you receive a secret message from secret people.
5) Protect and restrict access by your own password.
6) Disable or Enable the Secret Box anytime, anywhere.
7) User friendly.
8) Low memory consumption.
9) No extra hardware is required.
* For BlackBerry® Storm™ and BlackBerry® Storm2™, please follows the following instructions to disable the compatibility mode to ensure the application display properly.
1. Go to "Options"
2. Go to "Advanced Options"
3. Go to "Applications"
4. Select the "Secret Box"
5. Press the menu button on your device
6. Click on "Disable Compatibility Mode"
7. Restart your device
* Once you finish install the application, it will prompt out a dialog ask whether want to allow the permission. PLEASE ALLOW IT.