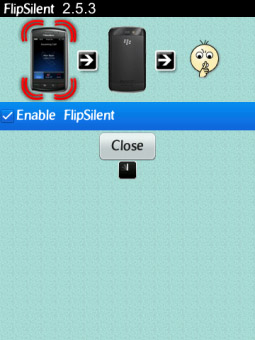 Tag:
9790 apps
Flip Silent
Overview :
Flip Silent 2.5.8 (os5.0+ apps) - Just flip the phone when a call is incoming to silence it.

Version: 2.5.8
File Size: 288 KB
Required: 5.0.0 or higher
model: Pearl 9100 3G, Pearl 9105 3G, Curve 8520, Curve 8530, Curve 8900, Curve 8910, Curve 8980, Bold 9000, Curve 9300 3G, Curve 9330 3G, Tour 9630, Bold 9650, Style 9670, Bold 9700, Bold 9780, Bold 9788, Curve 9350, Curve 9360, Curve 9370, Storm 9500/9530, Storm2 9550/9520, Torch 9850/9860, Torch 9800, Bold 9790, Torch 2 9810, Bold 9900/9930, 9981

Features:
- Flip the phone to silent.
- More incoming calls will be silent too.
- Flip the phone back and the normal profile reactivated.
- Activate or deactivate FlipSilent whenever you want.
- Works flawlessly after device reboot/reset.
- Silence the phone with elegance (i.e. in a meeting).
- Exclusively for BlackBerry® Storm, Storm II, Torch 9800, Torch II 9810, 9850, 9860 running OS 5.0 or higher.
How it works:
Once activated FlipSilentâ"¢ is waiting for incoming phone calls. Once someone calls you FlipSilent is waiting for your action. Right after the phone is flipped it is set to silent. It will stay silent until you flip it back!
Use FlipSilent in Meetings!
In a meeting everyone puts its phone on the table. Every other minute someone's phone rings and he or she needs to set it to silent, you can see this when they are fiddling around to find the actual key or button. With FlipSilent a cool appearance can be made by just flipping the phone to silent.
Watch a FlipSilent video on YouTube: http://www.youtube.com/watch?v=lMYCKpzvwfs