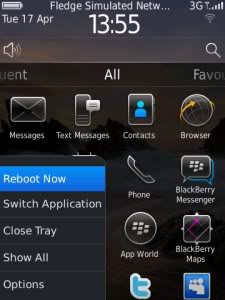 Tag:
Instant
Reboot
Overview :
Instant Reboot v1.2 ( os5.0+ apps ) - No more battery pulling or pressing too many keys for reboot. Now you can reboot your phone from any where with a little menu everywhere on you phone.

Version: 1.2
File Size: 103 KB
Required: 5.0.0 or higher
Model: Blackberry 89XX Curve Series (480*360): 8900(Javelin), 8910(Atlas), 8930, 8950, 8980/Blackberry 90XX Bold (Onyx) Series (480*320) Devices Models: 9000, 9020(Onyx)/Blackberry 96XX Tour (Niagara) Series (480*360):9600, 9630, 9650(Tour2), 9700(Bold2), 9780, 9790, Dakota, Apollo /Blackberry 95XX Storm Series (360*480):9500, 9510, 9520, 9530, 9550(Storm2), 9570(Storm3)/Blackberry Torch Series: 9800(Torch), Torch2, 9810, 9860/Blackberry Pearl 3G Series (360*400) Devices Models: 9100, 9105, 9670(Style)/Blackberry 99XX (OS 7.0) Series (640*480) Devices Models: 9900, 9930, 9981

From the context menu you simply select "Reboot Now" device will be restarted. I usually install this app for integrating 3rd with ShortcutMe.
i hope you like it.