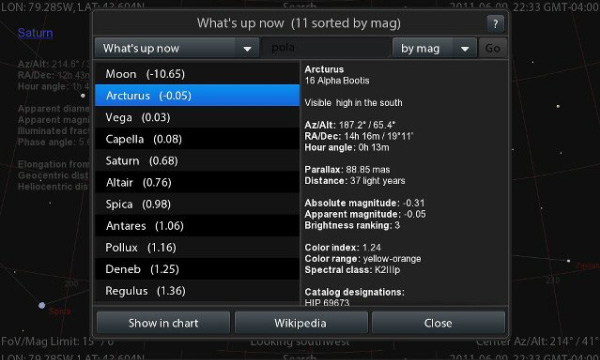 Tag:
Overview :
What's up v1.1.0.119 for bb playbook apps
The first sky map available for the BlackBerry® PlayBook™ is now available for BlackBerry® 10 smartphones. Whether you are a novice astronomer or an expert, you will love this app's ease of use and feature set.
As one reviewer posted----
It's an amazing bargain: lets you point your PlayBook up at the night sky and get a "live" image of "What's Up" there right now - the image scrolls as you move your playbook. Easy set up (either using Playbook's inbuilt GPS, or manually entering longditude and latitude). Search function allows you to look for objects by what their name sound like or starts with: and also by "what's up"
The app does all the stuff that you might expect from a full-blown PC application - but it's much better because it's portable. It shows real-time positions for the sun, moon, major planets and the 5000 brightest stars. It is easy to set up, works anywhere on the planet and does not need an internet connection to perform its main function.
Here are some of the app's impressive features:
* Three Point and View modes using the on-board magnetometer
* Worth the price for the incuded compass alone - corrected for magnetic declination, it is the most accurate compass available
* GPS support for setting geographic coordinates
* Best astronomy research tool for students with advanced text search (including phonetic search) and Innovative "Quick Links" providing seamless integration with Wikipedia articles
* Multitouch gesture support for zooming and panning
* Identify interesting objects quickly with a handy list of bright objects in the sky right now and full range of search/sort options
* Very small footprint if you are short of storage (1 MB vs. 40 MB for the other guy)
* Red theme to preserve night vision and "keep awake" option
* Two font sizes and ability to control number of name appearing on the screen
* Complete on-board help system - the best in the business. Just swipe down from the top bezel.