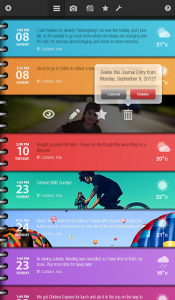 Tag:
A Day in Lif
Overview :
A Day in Life - Journal v1.0 for BlackBerry PlayBook apps
file size:
3219 KB
Required Device Software:
Tablet: 2.0.1 or higher
Description:
A simple & beautiful journal for your BlackBerry® PlayBook™.
A Day in Life is the perfect app to store all your ideas, thoughts, events, experiences, memories, notes and more. Whether or not you love journal writing, A Day in Life is a fun and easy way to write about and capture your most memorable moments with family, friends and colleagues.
Witnessed a beautiful sunset? Met a long-lost friend on the train? Got a brainwave that kept you awake at night? Capture and preserve all such wonderful moments with A Day in Life- Journal.
Elegantly designed to look like a real-life journal, this journal app comes with several features that will make diary writing an absolute treat.
Features include:
* Weather & Location tagging to add a personal touch to your journal entries.
* Add photos and images to your journal entries and notes. Import photos from your camera roll or just snap a photo as you create your journal entry.
* View all your journal entries and notes in 4 handy views:
- Visual Timeline: Browse through your journal entries in a visual timeline view.
- Photo View: Flip through your journal entries in collage style.
- Calendar View: View all journal entries and notes on a particular date.
- Favorites: See only your starred journal/diary entries.
With A Day in Life, you never have to forget a single special moment. Keep a diary of life's most interesting experiences and reminisce over your fondest memories.