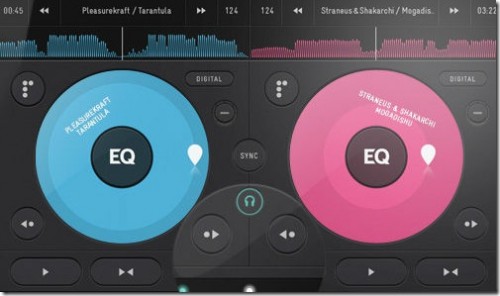 Tag:
Pacemaker
Overview :
Pacermaker is PlayBook is the music class application conspicuous applications, this is similar with other platforms which is very popular with DJay grammy-nominated application, you can see the price in the App World is 20 USD, and now it is fifty percent to $9.99 price promotion, if your PlayBook can realize smooth purchase, if you just need this type of application, if you can accept this price, so you can supply the support with the promotion price and purchase , after all, PlayBook's good application needs to support.

File Size: 154092 KB
Required Device Software:
Tablet: 2.0.0 or higher

Description:
*** Now at half prize for a limited period of time so take your chance to show off your DJ skills today! ***
Mix the music you love with automatic beat matching, loops and effects. Pacemaker® makes it easy and fun to DJ and with a full set of playback features, pro level audio effects and a crossfader, you have unlimited creative influence over your music!

Features:
Auto beatmatch - Instantly sync tempo and phase of two tracks by clicking the Sync button.
Scratch - Put the needle on the record and scratch like the Grandmaster.
Time stretch - Alter and set the tempo of a track ± 100% without affecting pitch/key.
Pitch speed - Alter track tempo ± 100% and pitch/key ± one octave in parallel.
Pitch bend - Nudge a track into phase.
Loop - Create synchronized loops on the fly; set and adjust in-point and/or end-point, split from in-point or end-point, double from in-point or end-point, exit loop and re-loop.
Loop travel - Turn on Loop travel and hear the funky sound of a small loop traveling along the sound wave.
Reverse - Flip playback direction
Cue play - Play track from cue point and revert to cue point when releasing cue button.
Set cue point - Search and define starting point of a track with precise control.
DJ pause - A stuttering micro loop lets you listen, search and set cue point.
FX - Add and adjust single parameter audio effect Hi-cut/Lo-cut ± 1.0.
Beat FX - Add and adjust two-parameter audio effects Echo and Roll to dry/wet + 0–100% and Beat at 1/8-8, and Reverb to dry/wet and size to + 0–100%.
Kill-all - Instantly mute or re-engage activated audio effects.
Track EQ - Temporarily adjust equalization of loaded tracks.
Crossfader - Dynamically adjust the output blend between the two channels.
Split output - Split output and listen to one track in the headphones while another track is playing in the speakers. All you need is the Griffin DJ Cable.
Headphones crossfader - Dynamically adjust what channel blend to listen to in the phones.
Halt - Pause everything and continue when ready.
Master headphones volume - Adjust volume for headphones output.
Gain - Temporarily adjust gain level of loaded track.
Smart Track Search
Find the track you need instantly with our smart filters. Search the track by adding filters for specific Artists, Albums, Genres, BPM or Key.