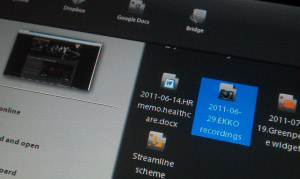 Tag:
Folders
Files
Overview :
File Size: 1525 KB
Required Device Software:
Tablet: 1.0.0 or higher

Description:
Files & Folders is a unified file manager for your PlayBook and cloud services.
★ A free 3-day TRIAL version is also available. Just tap on Innovatology.
Features in version 5.0:
★ Works with local files & folders but also:
★ Dropbox, Box, Google Drive, Google Docs, SugarSync and now SKYDRIVE
★ Manage cloud services in exactly the same way as local files & folders
★ Designed specifically for the BlackBerry PlayBook
★ Open (or download & open) files with associated app
★ Open Google & SkyDrive files online
★ Cut, copy, paste, rename, delete, even between cloud services
★ Star your favorite folders for quick access
★ List, icon, thumbnail views
★ Preview images and text files
★ Slide show, keep-awake, text viewer
★ Manage your ZIP files as if they were folders
★ Convert between many formats on-the-fly using Google Docs
★ Search & filter local files
★ Multi-select, sort by name, date, size, type
★ Password protection
★ Light & dark color schemes
★ Highly configurable
★ Built-in help and excellent support
★ Send files via e-mail (experimental feature)
★ Access your BB phone via Bridge (experimental feature, not for BES users)
CrackBerry says:
"It's easy to use, has a smooth interface, and is a great addition for the PlayBook."
Like us on Facebook (Files & Folders for BlackBerry® PlayBook™), follow us on Twitter (@FilesFolders) or check out our site (www.innovatology.nl ) for news, tips, updates & more!
New in this version:
★ Support for SkyDrive, Office Web Apps and Office 365!
★ Google Drive, now much faster, especially for users with many files. Your own files and files people shared with you are now in separate top-level folders.Because of these changes, any Google Drive folders you have starred will have to be re-starred.
★ Redesigned look & feel, new icons inspired by BB10.
★ Choose your favorite color scheme!
★ Online manual, so you can read it in a separate browser window or on another device.
★ Many more major & minor improvements & bug fixes.
Full release notes are always available on our Facebook page.