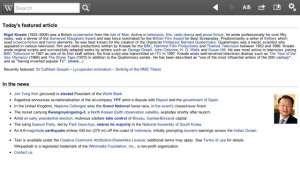 Tag:
Wikipedia
Official
Overview :
Official Wikipedia v1.1 Apps for BlackBerry PlayBook
File Size: 1171 KB
Required Device Software:
Tablet: 2.0.0 or higher

Description:
Official Wikipedia App for BlackBerry® PlayBook™. Wikipedia is the free encyclopedia containing more than 20 million articles in 280 languages, and is the most comprehensive and widely used reference work humans have ever compiled.
Features: Search articles nearby, Open articles in browser, Read article in a different language, Search
Send us your feedback on Twitter @WikimediaMobile.
The code is 100% open source and community built. If you are a developer and good at JS/HTML5, then come fork us! https://github.com/wikimedia/WikipediaMobile

i hope you like it.