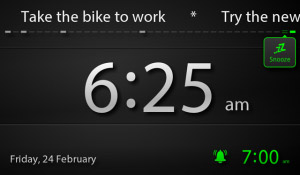 Tag:
Alarm Clock
Get set
Get up
Overview :
Get set - Get up! Alarm Clock v1.1 for playbook apps
File Size: 2441 KB
Required Device Software:
Tablet: 1.0.8 or higher

Description:
Do you press 'Snooze' indefinitely? Do you forget last night's best-laid plans?
Turn your snooze time into an energizing count-down! This alarm clock will get you up - or, if you are a workaholic, it might get you out of the office in time to have a life ...
1) Set the alarm for when you really really want to get up or get going
2) Choose how much snooze or 'early warning' time you'd like beforehand
3) Write or record a message that will motivate you to stick with your plans
Then rest assured. When it's time, increasingly shorter snooze periods and clear indications of how much time is left will gradually prepare you. And should you wonder whatever possessed you to set the alarm this early, ticker text and/or a voice note button are there to remind you!

Features
* Progressively shorter snooze intervals with adjustable total snooze period
* Clear visual indication of how much time you have left
* Ticker-text displays your 'notes to self', motivational quotes etc.
* Wake up to your favourite music
* Visual pre-alarm before the alarm sounds
* Temporary silencing on touch anywhere gives you time to rub your eyes and think before you hit Snooze or turn the alarm off
* Night-light
* Easy time-setting (no fiddly spinners)
* Adjustable brightness
* Volume setting independent of settings in other apps
* Battery indicator and low battery warning
* Detects and warns if device is not charging properly
* Landscape or portrait mode
* 12 or 24 hour mode

Updates:
v 1.1.0:
* Now you can chose between digital display and an elegant analog clock face