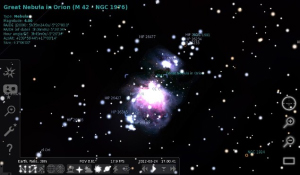 Tag:
Stellarium
Overview :
Stellarium (Astronomy StarMap) v1.1.1.8 for playbook apps
Required Device Software:
Tablet: 2.0.0 or higher
Description:
Stellarium is a planetarium for your BlackBerry® PlayBook™. It shows a realistic sky in 3D, just like what you see with the naked eye, binoculars or a telescope. Ideal for astronomy enthusiast.
ALL UPDATES ARE FREE AND WILL BE FREE FOREVER
If you believe you were charged for update please send us email to support address.
Main features:
* Realistic rendering of more than 2 million stars, planets and their satellites
* GPS and magnetometer(compass) support for automatic location detection and point-and-view functionality
* Asterisms and illustrations of the constellations
* Realistic Milky Way and images of nebulae including full Messier catalogue
* Azimuthal and equatorial grids
* Celestial object search, powerful zoom
* Configurable location, landscape, projections,...
And much more!
Version 1.1.0.7 new features and changes:
* Support for GPS to determine and set current location
* 'Point and See' - point your PlayBook to the sky and see on the screen what is there
* Star database extended and now includes more than 2 million stars
* Some adjustments made to default settings to make it easier to get you started
Version 1.1.1.8 fixes bug that caused application abort at startup if GPS location permission is denied.
Your reviews and suggestions are greatly appreciated.
Keywords: astronomy, starmap, starchart, planets, nebulae, skymap, skychart, skywatch, moon
This PlayBook port project is based on open source stellarium for Windows/Mac/Linux maintained by Stellarium group.
Project is distributed under GPL v2 license, project sources are available at http://github.com/siarheig/stellarium