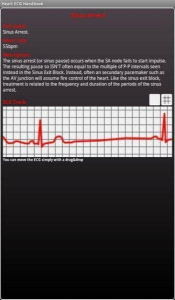 Tag:
Heart ECG Ha
nP
Overview :
Heart ECG Handbook v3.0.5 for playbook apps
Required Device Software:
Tablet: 2.0.0 or higher

Description:
After the big success in the Google Play with 200,000+ downloads, Heart ECG. Handbook is available also for BlackBerry PlayBook!
Being able to read an ECG is a prerequisite for every good medical doctor and now even common people can learn to do it thanks to Heart ECG Guide. Your device has just become an ECG reader!
App makes available 25 different physiologic/pathologic ECG - the most common - to make you study and understand them.
Each one includes a short description (with some clinical note), heart frequency and an excellent drag&drop image of the ECG to learn thebasis of cardiology.
Moreover, to test your knowledge, App includes an interactive quiz collection to check your progress and give you the opportunity to improve!
Heart ECG Guide is the personal trainer for ECG's reader!
Note: this App doesn't claim to be a medical application.