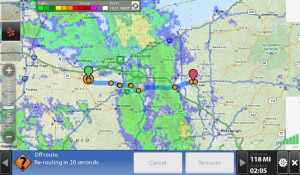 Tag:
Overview :
Magellan Compass Maps v3.0.0.104 for blackberry playbook apps
Required Device Software:
Tablet: 1.0.0 or higher
Description:
Map Quest and Open Street Maps navigation application that allows the user to search, navigate, bookmark and GPS track for the BlackBerry® PlayBook™. Option to cache map data to the device for quicker access and for off-line usage. Many different layers of data can be overlayed onto the map. Tons of features making Magellan Compass the best mapping and navigation application for the PlayBook.
NOTE:
Many features of the application does require an Internet connection. The user can choose to cache map data that allows the application to display previous map information off-line.
If you do get GPS, restart the device. It is not an issue with the application.
Features:
* Map Quest data provider
* Open Street Maps data provider
* Easy navigation to accelerate panning and easy finger zooming
* Multiple types of GPS heads up display
* Multiple map types including maps, satellite, and hybrid
* Automatical map caching for off-line usage
* Max speed warnings
* Real-time traffic for the U.S.
* Real-time traffic incidents for the U.K.
* Real-time weather radar overlay for the U.S. Along with radar animation.
* Real-time airport status for the U.S.
* POI weather forecast
* Flick (www.flickr.com) photo layer
* Yelp (www.yelp.com) business location and routing layer
* Bookmarks for quick multi-location map locations
* User-defined Points-Of-Interest markers associated with bookmarks
* Auto-remember location for quick address lookup
* Directions and guidance system
- Multi waypoints
- Lookup by GPS, Address, Previous, Lat/Lon, Places
- Directions, Guidance, Optimized
- Road type avoidance selection (e.g. toll roads)
- Naviage via auto, bicycle, or waling
- Textural guidance
- Voice guidance for turn-by-turn instructions
- Additional voices can be downloaded
- Waypoint management
- "Via" waypoint routing
- Auto cache map data along route
* On-device user's manuel
* Copy lat/lon locations to clipboard
* POI management
* Record GPS track to GPX files
* Context POI menu
* Extensive preference choices to customize application behavior
* Multiple languages supported