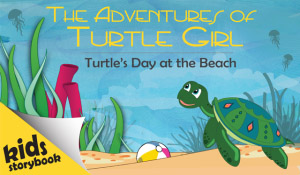 Tag:
PlayBook
Beach
Overview :
Turtle's Day at the Beach - Interactive Storybook for Kids v1.0.9
Required Device Software
Tablet: 2.0.0 or higher
Description:
Sale! For a limited time only but Turtle's Day at the Beach for $1.99
Turtle and her friend Olive Octopus have a fun day planned at the beach. Help them complete their activities in this interactive story book. Turtle's Day at the Beach includes original graphic illustrations, audio effects, interactive activities and narration mode. At the end of the story there is a coloring activity!
Swipe down from the top of the screen to access the quick menu. Within this menu you can toggle narration, background music or skip right to the coloring activity. Use the arrows on the top of the screen to navigate from page to page. This app has been built specifically for kids aged 3 years old and up. Kids love completing the activities and finding the starfish throughout the book. Start your adventure with Turtle and Olive today.