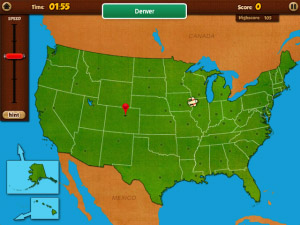 Tag:
PlayBook
GeoFlight US
Overview :
GeoFlight USA HD v1.0.0 for playbook apps
Required Device Software:
Tablet: 2.0.0 or higher
Description:
GeoFlight USA HD is the best BlackBerry® PlayBook™ app to learn USA geography in a fun and educational way! No boring quizzes or flag puzzles, but high speed arcade action.
GeoFlight USA offers a challenging learning environment which is very entertaining for kids, and even a challenge for parents. The goal of the game is to fly a cute little airplane as quickly as possible to the right destination on the map. A player can choose between states, capitals or large cities in the USA. Radar hints are available, but will cost valuable time. The game offers two exciting gamemodes:
1) Practice
Practice all 50 states, capitals and 150 largest cities in the USA without any time pressure.
2) Timerace
Fly within the time limit to as many destinations as you can. Earn extra time with every correct answer or loose time by using a radar hint.
GeoFlight USA HD is a fun an educational game for all ages.
- 50 states
- 50 capitals
- 150 largest cities
- Practice mode and Timerace
- Cute graphics, designed for BlackBerry® PlayBook™
- Great music en soundeffects
- 3 levels (Easy, Normal and Hard)
- Improve your highscores
- English and Dutch language support
- No advertisements or in-app purchases!

Come on, download this apps for your blackberry playbook.