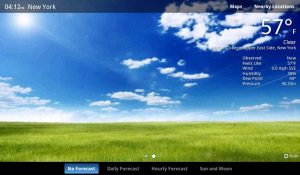 Tag:
Beweather
Overview :
BeWeather HD v1.1.16
Required Device Software:
Tablet: 2.0.0 or higher
Description:
The only weather app you will ever need!
See the current weather in stunning high definition weather animations!
The #1 best selling and award winning BeWeather for BlackBerry® PlayBook™ is now finally coming to the BlackBerry® PlayBook™!
BeWeather HD brings a ton of customization options to modify its looks, and default weather parameters. Set custom background images or stick with the eye-candy high definition animations portraying current weather conditions.
FEATURES:
- 100% Ad-Free
- Weather data provided by Weather Underground, includes 7 day and hourly forecasts
- Visually stunning display of weather information using high definition animations (experimental)
- More accurate conditions by switching to a nearby weather stations for any location
- Weather advisory notifications (US only)
- Built-in animated radar (US only) and IR/Vis satellite maps
- Replace/extend the default radar/satellite maps with your preferred weather service's radar maps!
- Add custom web cams and other media links (weather radio, video, HTML etc)
- Sunrise/Sunset times and moon phase
- Completely customize BeWeather using fonts and colors

If you like the bb playbook apps, Please share to your friends!