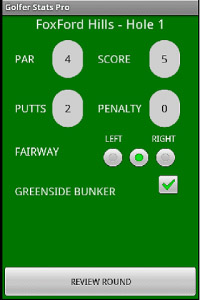 Tag:
PlayBook
Golfer
Overview :
Golfer Stats Pro Tablet v2.0.0 for playbook apps
Required Device Software
Tablet: 2.0.0 or higher
Description:
Don't have the PGA Tour following you around with ShotLink, calculating your golf stats? Want the same stats as the Pros? Golfer Stats Pro is an easy, fast scorecard entry and statistical tracker. Get many of the same stats the pros use to find their weaknesses and improve their game.
Features:
- Review over 40 different personal golf stats
- Calculate your unofficial USGA handicap
- Filter your stats: by course, by round, or by year
- Simple, easy to use scorecard entry
- Enter any golf course and remembers course information for next time
- Review round before saving
- Edit previously entered golf rounds
- Compare your stats to the Pros
- Email or post your round to Facebook/Twitter
Follow this app on
Facebook: http://www.facebook.com/pages/Golfer-Stats-Pro/163873160384707
Twitter: http://twitter.com/golferstatspro
i hope you like.