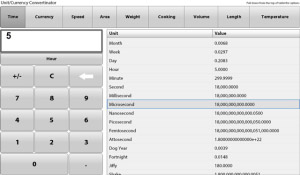 Tag:
PlayBook
Convertinato
Overview :
free Convertinator v2.0.0 for blackberry playbook apps
Required Device Software
Tablet: 1.0.0 or higher
Description:
Unit Converter for the BlackBerry® PlayBook™ with currency data that automatically updates. Provides an easy-to-use conversion interface that displays many units at once.
This project's source can be found at "http://github.com/v17al/Convertinator" and is license under the LGPL. All contributors are welcome!
For any questions/bug reports you please contact mattdentremont@gmail.com
- Tabs for selecting unit categories (Distance, speed, etc)
- Accurate currency data (update frequency is customizable)
- Displays converted data in a table so that many units are shown at once
Release Notes (2.0.0)
- Fixed backspace button image
- Replaced the swipe-down option bar
- Improved the layout of the conversion table
- Simplified the currency update settings
- Added an "About" button
- Performance enhancements
- Removed the ugly title bar
Release Notes (1.1.1)
-Added new unit category (Pressure)
-Fixed broken unit (Nautical Mile), thanks for the heads up in the comments :)
-Updated the packaged currency values
i hope you like it.