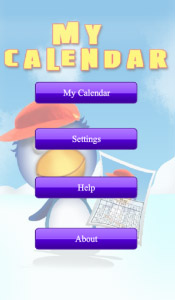 Tag:
PlayBook
My Calendar
Overview :
My Calendar v2.0.9 for BlackBerry PlayBook
Required Device Software:
Tablet: 1.0.0 or higher

Item Description:
It is a personalized calendar having photos of you, your friends, family, pets, cars, nature or anything else you prefer. Calendar and mobile go together like bread and jam. Here is an application jolting to prove that.
Features:
Simply click camera and add pictures from gallery
Have your favorite images in the calendar
Select photos for each month or else they get randomly selected
Select an image of your choice as background for each month
Watch sideshow of all selected images in the calendar
Select a friend's photo who's birthday falls in the month
Make each day and month of the year special with 'My Calendar'

Support :
If you are facing any problem regarding the functionality of the App ,
please contact us at : " support@migital.com "
We shall be glad to assist you and provide the best possible solution.We'd also be pleased to hear your comments, feed back or suggestions and shall ensure best efforts to over come any reasonable issues regarding the product functioning.
Check more Exciting Apps: https://appworld.blackberry.com/webstore/search/migital