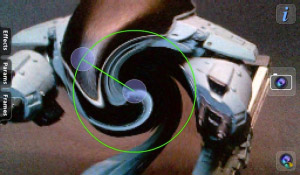 Tag:
Warpatron
Photo effect
Overview :
Warpatron - Photo effects v1.1.0
Required Device Software
Tablet: 1.0.7 or higher

Description:
Warpatron - Take snapshots with special effects directly on your BlackBerry® PlayBook™.
Warpatron allows you take snapshots on your BlackBerry® PlayBook™, with a difference. Three tabs on the left of the screen allow you to select the special effect, change parameters of the current effect and optionally add a picture frame. Once a special effect is chosen, you'll see a full screen real-time preview using the selected camera (front or back - switchable). The parameters of the special effects can be changed through the parameter tab panel or more conveniently by using multi-touch (1 or 2 touch controls depending on the effect) interface, again seeing the changes in real-time. Take the picture, see the result and choose to save it as a JPG or PNG to your photo library. Each effect has an information panel detailing the parameter function and showing how the touch controls work for this particular effect.
Be creative...
Features :
- Choose from a wide variety of special effects.
- See the effect preview in REAL-TIME then take the picture.
- Change the effect parameters and see the difference in REAL-TIME.
- Change parameters using multi-touch controls.
- Switch between front and back cameras.
- Save your masterpieces in JPG or PNG format.
- Full device rotation support
- Add a picture frame from the collection provided.
Special Effects :
- Black and white
- Greyscale
- Colour Isolation
- Sepia colouring
- Hue/Saturation
- Fake thermal colouring
- Sketch-like
- Cartoon colour reduction
- TV Scanline
- Pixelate
- Noise
- Mirror
- Sphereize
- Twirl
- Ripple
- Zoom
- Zoom/Speed Blur
Website: http://www.geepers.co.uk/software/warpatron.html
Support: warpatron@geepers.co.uk
Twitter: @Warpatron