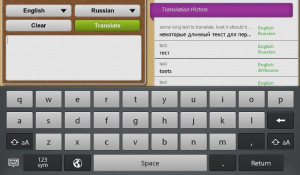 Tag:
FancyTran
Overview :
free FancyTran v1.2.0 for BlackBerry PlayBook app
Required Device Software
1.0.0 or higher

Description:
BlackBerry® PlayBook™ version of famous FancyTran multi translator for BlackBerry®.
Now provides more convenient user experience an text to speech features.
* 59 languages
* Dictionary mode & free text translation
* Spelling correction included
* Tracks history of translations
* Provides recent translations even being offline
* Speaks translation for most languages
Please rate the app with 5 stars if you like it or provide your feedback as features request.