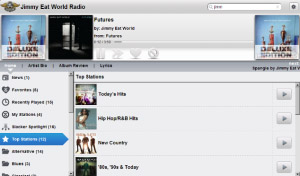 Tag:
PlayBook
Radio
Slacker
Overview :
free Slacker Radio v1.1.13 for BlackBerry PlayBook games
Required Device Software
1.0.0 or higher

Description:
Listen to all of your favorite personalized Slacker stations on your BlackBerry® PlayBook™ for free! You can listen to over 140 stations programmed by music experts or search for song and artist based stations right from your BlackBerry® PlayBook™. You will have detailed artist biographies, full album reviews and more.
• Unlimited free music on your PlayBook™
• Over 140 expert-programmed genre stations
• Tabbed info view for lyrics, reviews and biographies
• High-quality stereo sound over any connection
• Music plays even while using other applications
• Create custom stations based on artists or songs
• View album art and photos
• Rate songs as favorites
• Ban the songs and artists you don't like