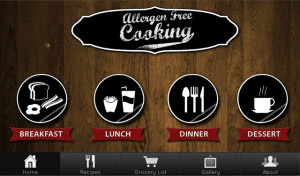 Tag:
Cooking
Allergen
Overview :
Allergen Free Cooking v1.0.0 for blackberry playbook apps
Required Device Software
1.0.7 or higher

Description
Allergen Free Cooking is a collection of recipes that are free of four of the most common allergens: dairy, eggs, gluten and soy. Food allergies and sensitivities are very common, and it can be quite frustrating and very difficult to find things to eat. With Allergen Free Cooking, you will be able to make 19 mouth watering dishes that use substitutes for all of the main allergens.
Features:
*19 mouth watering recipes that are free of dairy, eggs, gluten & soy
*each recipe has a description, ingredients list and directions
*each recipe is accompanied by 3 images of the steps along the way, as well as a final image
*grocery lists for each recipe allow you to check off the ingredients as you are shopping
Have any recipe ideas? Send us an email and we may add your recipe to our next update!
(more recipes will be added in future updates)