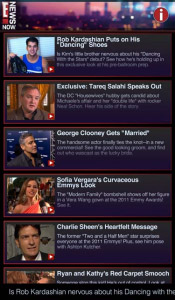 Tag:
PlayBook
Overview :
E! News Now v1.0 for BlackBerry PlayBook apps
Required Device Software
1.0.0 or higher

Description
Get the latest entertainment news, gossip and more with the free E! News Now Playbook App! It's never been easier to access the breaking entertainment news and videos you can't live without. E! News Now delivers over a dozen video reports daily, bringing you the latest scoop on your favorite celebs. Only have a second? Check out the breaking news ticker at the bottom of the screen. Whether it's the hottest scandal, biggest meltdown, or just the must-see moment everyone is talking about, E! News Now is on the case, delivering it to your BlackBerry Playbook 24/7.