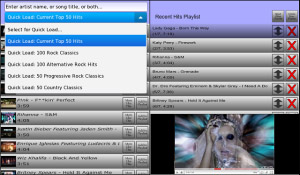 Tag:
BlackBerry
Music Master
Overview :
Music Master v8.2 for BlackBerry PlayBook
Required Device Software:
1.0.0 or higher
Description:
Users say:
"A+"
"Excellent! Worth every penny."
"super app.... why cant they all be this worth while?????"
Listen to unlimited online music on your BlackBerry® PlayBook™. Choose the music you want and listen as much as you want.
MusicMaster allows you to search for any artist, or artist / song combination, and add them to your playlists. MusicMaster also features QuickLoad capabilities for New Hits and other categories such as Classic Rock and Modern Rock.
Features:
- no monthly subscription or music fees; music videos are streamed from YouTube
- create multiple playlists; they are automatically saved
- extremely high hit rate on finding and playing original artists for both new and old music
- play videos in smaller view window, or in full screen (double tap the video window); use HDMI cable to play on your TV
- listen to your music in the background while using other apps; simply set BlackBerry® PlayBook™ to "Showcase" mode from the options menu