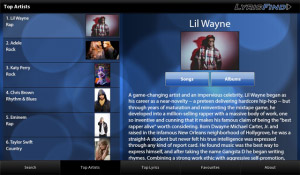 Tag:
PlayBook
LyricFind
Overview :
LyricFind v1.0 for playbook applications
Required Device Software:
1.0.6 or higher

Description:
LyricFind brings you access to the lyrics to millions of tracks, straight on your BlackBerry® PlayBook™.
"LyricFind for the PlayBook has a very nice layout that is easy to use…. gives you tons of information yet doesn't make the screen look too busy and cluttered. We even used it as a trivia game during a cookout over the weekend. Absolutely loving this app." - PlayBookDaily.com
"Huge database of lyrics" - CrackBerry.com
With LyricFind, you can:
- Find the lyrics to all your favourite songs. Want to learn the lyrics, sing along, or just can't figure out what they're saying? Now you can!
- Powerful yet simple search feature helps you easily find what you're looking for - lyrics, artists, or albums
- Bookmark your favorite lyrics, and always have easy access to your list. Great for parties or gigs!
- View detailed artist biographies, photos, and album art
- View the newest charts of top lyrics and artists
- Submit corrections to our database
- Email to a Friend
...and a whole lot more!
Millions of people have downloaded LyricFind on other platforms - we're proud to finally bring it to the BlackBerry® PlayBook™, and we hope you enjoy it!
Did we mention that this is all legal, too? That's right, we've gotten the licensing from nearly 2,000 publishers to offer the lyrics to you LEGALLY, and get the song writers paid! How cool is that?? You can thank us later.
In the meantime, just download the app!