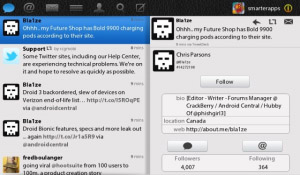 Tag:
PlayBook
Twitter
TweetBook
Overview :
TweetBook v1.0.40 - Twitter for BlackBerry PlayBook
Required Device Software:
1.0.6 or higher

Description:
TweetBook is designed to feel and function as a native Twitter® application for the BlackBerry® PlayBook™. This provides the user with a high quality, full-featured Twitter® experience: search, browse, send images, messages, follow your interests and friends while tweeting to your heart's content on Twitter® with ease and simplicity.
TweetBook manages all of Twitter®'s content within sleek, rich graphics and multi-pane windows, supports multiple accounts, and receiving notifications on your PlayBook™ home screen will keep you on top of your friends, mentions and interests. TweetBook also takes advantage of the BlackBerry® PlayBook™'s built-in camera, allowing you to directly take and upload images to your tweets - it couldn't be simpler!
Twitter enthusiasts rejoice, TweetBook and BlackBerry® PlayBook™ are just meant for each other!
Key Features:
Multi-Pane Window Design
DM Notifications (BlackBerry® PlayBook™ Home Screen)
Mention Notifications (BlackBerry® PlayBook™ Home Screen)
Threaded Messaging
Camera Support
Search Support
Picture Uploading
Portrait and Landscape functionality
Multiple Account Support
We hope you will enjoy your Twitter® experience with TweekBook!
If you have any problems getting TweetBook running on your BlackBerry® PlayBook™, please visit http://support.smarter-apps.com and we will help you up and tweeting!