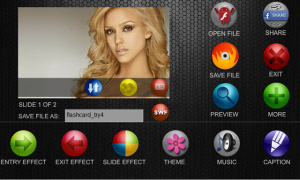 Tag:
SlideMaker
Overview :
SlideMaker v1.5.2 for blackberry playbook applications
Required Device Software:
1.0.6 or higher
Description:
Slide Maker is a slideshow creator. It can be used to create slideshows, ecards, greetings and presentations using images and music. You can add cool animation and decorative text. Once created, You can post slideshows directly on Facebook. You can also embed it or have a permalink for it!
COMING SOON:
Video feature
LIMITATION:
Cannot Upload SlideShow to Youtube.