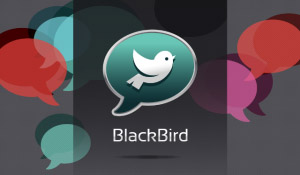 Tag:
BlackBird
Overview :
BlackBird v1.3.1 applications for playbook
Required Device Software:
1.0.0 or higher
Description:
Suggestions or comments: appworld.support@genoa.at
The quickest, easiest and best looking twitter client for BlackBerry® PlayBook™! (incl. multiple account support)
Don't wait for a mobile website to load, quickly access this complete twitter app for your BlackBerry® PlayBook™. Check and write your tweets on the go!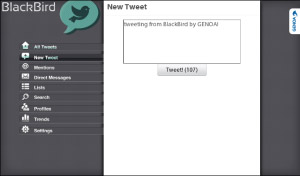 Features in Version 1.3.1
•Username autocompletion
•Improved video upload
•Start search by pressing enter
Features in new version 1.3
• New options for retweeting
• Url shortening
• Qucick access user profile
Features in Version 1.2
• Picture Upload
• Video Upload
• Add URL inside tweets
• Preview of pictures inside tweets
• Easy pinless authentication
• Full user profile view
• some GUI improvements

Version 1.1.1
• Full BlackBerry® PlayBook™ App
• Quick and intuitive navigation
• Easily read your timeline and single tweets
• Multiple account support
• Write and post your tweets and replies
• Retweet and mark as favorite
• View profiles
• Search
• Mentions
• Direct Messages
• Trends
• Lists
• Design by Austrian multiple award winners
Change log for all versions of the app: http://apps.genoa.at
Visit our Facebook page for news, support, suggestions and fun: http://www.facebook.com/GENOAAppsforBlackBerry
Follow us on Twitter: http://twitter.com/genoamobile