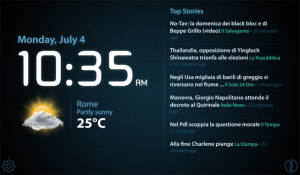 Tag:
PlayBook
Stand
Cassandra
Overview :
Cassandra Stand - News and Clock v1.1.0
Required Device Software:
1.0.0 or higher
Description:
For a LIMITED time you can have Cassandra Stand for HALF PRICE! Hurry up and tell your friends!
In Greek mythology, Cassandra was the daughter of King Priam and Queen Hecuba of Troy. Her beauty caused Apollo to grant her the gift of prophecy.
Cassandra Stand is an elegant, cross-platform mobile application which transforms your device in a useful and visual appealing stand with Date & Clock, Weather Forecast and Top Stories from more than 50 Countries.
Cassandra is easily customizable, supports Geo-location, landscape and portrait and features a clean and stunning interface... Everything you could ask from a stand application and much more!