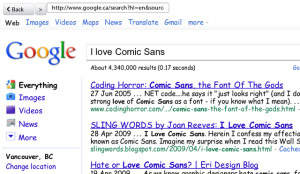 Tag:
PlayBook
Browser
Comic Sans
Overview :
free Comic Sans Browser v1.0.0 apps for playbook
Details:
What's so special about web browsing with the new Comic Sans Browser for PlayBook?
That's right, it reformats most of the text on a web page with the Comic Sans font.
So, unlike some browsers we could mention, the whole Internet looks childish, and not just parts of it.
(If it doesn't work on a web page, it's a feature, not a bug)