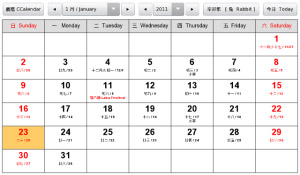 Tag:
Calendar
Chinese
Zodiac
Overview :
Chinese Calendar and Zodiac v1.0.2
Required Device Software: 1.0.0 or higher
Details:
Chinese Calendar and Zodiac is a calendar that displays the lunar and solar Calendar. It contains 200 years (1901 ~ 2100) to allow you to convert Gregorian Solar Calendar to the Lunar Calendar. It shows also the 24 Solar Terms and Chinese Festivals. Also at your fingertips is the Chinese zodiac and it's descriptions.