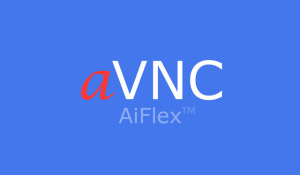 Tag:
aVNC
AiFlex
Overview :
aVNC AiFlex v1.5.0 - blackberry playbook apps
Required Device Software: 1.0.0 or higher
Description:
BlackBerry App World >Utilities >Utilities >
aVNC AiFlex
byAiFlex Limited
29 reviews

View in My WorldView in My WorldDownloadDownloadUpgradeUpgradePurchasePurchasePurchase UpgradePurchase UpgradeTryTryUS$2.99 USD


aVNC by AiFlex for the BlackBerry® PlayBook™ will access your computer from anywhere. Whenever you need to check your e-mail, view or edit documents, install or start a new application or write a quick message, aVNC makes it all possible. Connect to any Windows, Linux, Mac with VNC server installed.
aVNC provides an easy to use interface to manage remote computers securely. This native app has advanced features to make best use of the interface to save you time. aVNC uses full authentication. Just enter the IP address or URL and password to view and experience the remote desktop from your BlackBerry PlayBook.
Features:
-Access any computer remotely
With the IP address and a password you can access any computer remotely
Ideal for System administrators, IT Managers, Helpdesk and support staff for easy multi-platform and sever connections
-Secure Access
Access remote machines with password protected VNC
-Full Keyboard Support
Use your on device soft keyboard, swiping up from bottom right bezel corner to input characters to your remote computer
-Mouse Support
-Control+Alt+Delete Ability
-Multi OS Support
Windows, Mac, Unix Remote access. Access your files, e-mails, documents, edit and view
-Convenience
Stores the previous 20 IP addresses and computer URLs for easy reconnection
Direct type input
Zoom mode for more convenient view and working
View with read only option