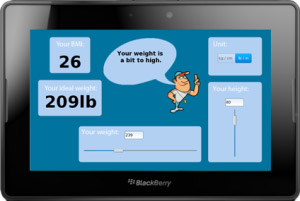 Tag:
BMICalc
playbook app
Overview :
free BMICalc v1.0.1 for playbook apps
Required Device Software: 1.0.0 or higher
Description: A small and simple BMI-calculator.
Just tell it your height and your weight and it will tell you, your BMI.
A coach will tell you your BMI in words.
You can choose between the units: centimeter or inch for height and kg or pounds for weight.
You can use the sliders or enter the values directly.