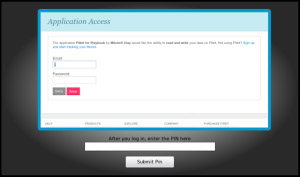 Tag:
PlayBook
BlackBerry
Fitbit
Overview :
free Fitbit v1.1.0 for BlackBerry PlayBook apps

Required Device Software: 1.0.0 or higher
Details:
The first unofficial Fitbit app for BlackBerry® PlayBook™ is your answer to quick and easy access to your Fitbit logs on the go! With it's intuitive design you can view and log your progress without visiting to the website!
Keep up with your business and your health with no time lost!
Haven't heard of Fitbit? The Fitbit is a personal fitness device that you wear. It tracks how far you walk as well as your sleep habits. You have a personal website where you can log the food you eat and any exercise activities and get detailed reports on your progress! The Fitbit is perfect for any diet or fitness goal!
**Current version only lets you view your data and log your weight, logging activities/food coming soon!