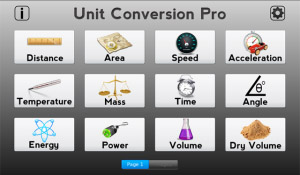 Tag:
Unit
Conversion
Overview :
Unit Conversion Pro v1.2.0 for blackberry playbook apps

Required Device Software: 1.0.0 or higher
Details:
From EJAK, comes this all-in-one Unit Conversion Pro Application!
No need to look up on websites online, or figure out last minute calculations needed.
Whether you're cooking at home, or doing homework, this is the only Unit Conversion App you need!
With over 2000 calculations covering 20 topics, no wonder it's awesome!
Categories include:
- Distance
- Area
- Speed
- Acceleration
- Temperature
- Mass
- Time
- Angle
- Energy
- Power
- Volume
- Dry Volume
- Computer
- Force
- Light
- Density
- Torque
- Pressure
- Concentration
- Flow

This is the all-in-one reference, Unit Conversion Pro App!