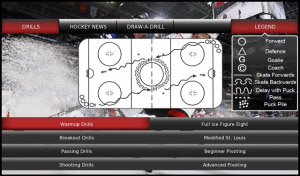 Tag:
Hockey
DrillBook
playbook app
Overview :
Hockey DrillBook for playbook apps

Required Device Software: 1.0.0 or higher
Details:
Hockey DrillBook is the ultimate resource for any Hockey Coach!
Now with over 50 drills in over 15 different categories, this app will help your team on their way to victory! Each drill is presented in stunning high quality on your BlackBerry® PlayBook™, and you can quickly and easily display different drills to your players.
NEW FEATURE: Hockey News! Keep up to date with all the latest news, stats, and scores in the Hockey News section! See who's stepping up, who's falling apart, and how each team is being coached to victory!
NEW FEATURE: Draw-A-Drill! This heavily requested feature will now let you draw drills in real time to so you can show all your players, fellow coaches, or even teammates how to dominate the opposition! With the HDMI out included with your PlayBook™, you can hook up Hockey DrillBook to your HD TV and give your team the ultimate advantage!
More drills are on their way, including lots of new features that will give you the edge on your competition! Everyone needs a PlayBook™ in their life, and Hockey DrillBook is your PlayBook™ to victory!