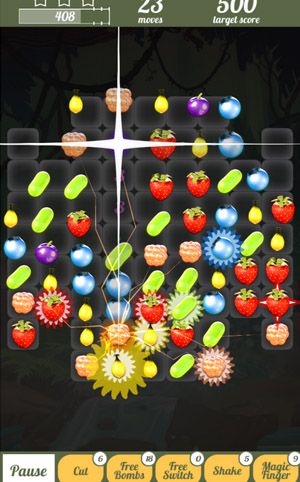 Tag:
Berry Adventure
Overview :
Berry Adventure v1.1.0.1 for blackberry games
Berry Adventure is a match-3 game with six greate mix effect. This brain teasing game will give you tons of fun with special designed levels. Packed with great graphics and new features such as color-matching fruits and "Bombs" to make the classic game-play even better.
- Simple rules to play match 3 or more same colour fruits vertically or horizontally to clear all the tiles to get the golden key and bring it to the bottom
- Three greate powerups! Six greate mix effect! Five boosters!
- You will experience a tuple when 4 fruits are aligned for a powerful bomb; a even more powerful bomb can be formed by combine two bombs in any colour.
Supported Devices:
BlackBerry Classic
BlackBerry Leap
BlackBerry Passport
BlackBerry Passport Silver Edition
BlackBerry Q10
BlackBerry Q5
BlackBerry Z10
BlackBerry Z3
BlackBerry Z30
Porsche Design P9982
Porsche Design P9983