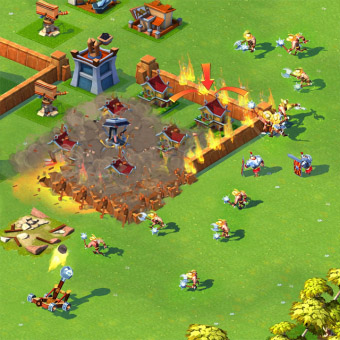 Tag:
blackberry world games
Total Conquest
Overview :
Total Conquest 1.7.1 for blackberry world games
The Empire Challenges are upon us!
- Limited-Time Challenges
- New Cyclops unit
- Upgrades for the Legionario Speculator Gladiator and Aries
- Upgrades for the City Hall Food Storage Gold Storage Cloud Buster Flaming Citadels Blacksmith and walls/gates
- Immunity is now absolute and will work even during Legion Wars
- The movement of buildings can now be canceled
- You can now Visit players from the Battle Log Chat and Legion interfaces
- Various bug fixes and optimizations
Sound the call to battle and join legions of players online in a battle to control the Roman Empire! Total Conquest is an exciting and strategic social game where you are a Roman governor developing your own city-state and army. But with Caesar dead there's no more playing games: You'll need to join a powerful Legion -- or forge your own -- to defeat your enemies protect your lands and reign supreme. Vae victis!
Supported Blackberry Cellphone Models Devices:
BlackBerry Classic
BlackBerry Leap
BlackBerry Passport
BlackBerry Passport Silver Edition
BlackBerry Q10
BlackBerry Q5
BlackBerry Z10
BlackBerry Z3
BlackBerry Z30
Porsche Design P9982
Porsche Design P9983