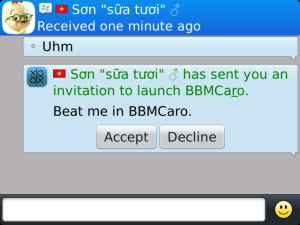 Tag: Caro 8700 game
Overview :
The blackberry gobang game which can connected with BBM is the best choice for killing time when you are free, now provides 1.5.7 Beta to download.



Blackberry 8350i (320*240) Related Devices Model: 8500, 8520, 8530, 9300(Kepler), 9310, 9315, 9320, 9330, 9350, 9360, 9370, 9380, 9790/Blackberry 83XX Series (320*240) Curve Devices Models: 8300, 8310, 8320, 8330 / Blackberry 87XX Series (320*240) Devices Models: 8700c, 8700r, 8700f, 8700g, 8703e, 8707, 8707g, 8707v .etc /Blackberry 88XX Series (320*240) Devices Models: 8800, 8820, 8830 .etc

Description:

BBMCaro | Game caro Vietnam's first integrated social networking world's largest mobile BBM (BlackBerry Messenger) Social.

In the BBMCaro, the Menu will be:

Invite friends to play: Invite you to play. Or from outside the game screen press I to invite. Only in BBM list you have set out to invite new BBMCaro.

Invite friends to download: Invite your BBM list in BBMCaro download.

How to play:

Use trackpad / trackball / touch to it.

Who last 5 consecutive wins mark, 5 mark note on the front row is the winner regardless of the blocked 2 or 6 or 7 consecutive marks.

If you go off the board that no one wins, the game will air

Press C or Menu> Send Chat to chat during the game.

Status The top is said to turn anyone away.

Every design is the Record of opponents with a score of Win, Lose, Draw

Below is the chat log displays the contents of 2 people chat through playing together.