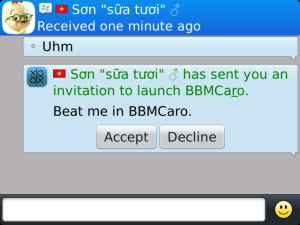 Tag: 9900 games Caro
Overview :

The blackberry gobang game which can connected with BBM is the best choice for killing time when you are free, now provides 1.5.7 Beta to download.



Blackberry 9900, 9930, 9981

Description:

BBMCaro | Game caro Vietnam's first integrated social networking world's largest mobile BBM (BlackBerry Messenger) Social.

In the BBMCaro, the Menu will be:

Invite friends to play: Invite you to play. Or from outside the game screen press I to invite. Only in BBM list you have set out to invite new BBMCaro.

Invite friends to download: Invite your BBM list in BBMCaro download.

How to play:

Use trackpad / trackball / touch to it.

Who last 5 consecutive wins mark, 5 mark note on the front row is the winner regardless of the blocked 2 or 6 or 7 consecutive marks.

If you go off the board that no one wins, the game will air

Press C or Menu> Send Chat to chat during the game.

Status The top is said to turn anyone away.

Every design is the Record of opponents with a score of Win, Lose, Draw

Below is the chat log displays the contents of 2 people chat through playing together.