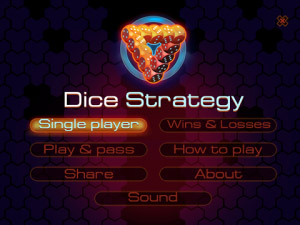 Tag:
Contlex
Dice Strateg
Overview :
FREE Dice Strategy V1.0 blackberry game
OS 4.6,4.7,5.0,6.0,7.0
model: Pearl Flip 8220, Pearl Flip 8230, Pearl 9100 3G, Pearl 9105 3G, Curve 8520, Curve 8530, Curve 8900, Curve 8910, Curve 8980, Bold 9000, Curve 9300 3G, Curve 9330 3G, Tour 9630, Bold 9650, Style 9670, Bold 9700, Bold 9780, Bold 9788, Curve 9350, Curve 9360, Curve 9370, Storm 9500/9530, Storm2 9550/9520, Torch 9850/9860, Torch 9800, Curve 9380, Bold 9790, Torch 2 9810, Bold 9900/9930, 9981

Description:
Dice Strategy a new fresh strategy game with a great range of different options and bonuses. You can play alone and have a good time, you can play with a friend or even with a group of friends and have a great time as well.
So you are a great commander and your mission is to become the emperor of the world. Not an easy task, right?
But you will create your own strategy and win!
Characteristics:
*2 game regimes: "Single Player" and "Play & Pass". You can play with friends and colleagues (up to 5 players);
**3 levels of difficulty: "Easy", "Normal", "Hard"
***Great Variety of Maps: "Small", "Medium" , "Large", "Epic";
****Various Starting Setups;
*****Different Battle Types;
******Possibility to choose the Army Placement;
*******Bonuses.
P. S. Don't be shy and let us know whether you like the application or not.
Feel free to contact Contlex Ventures team if you have some problems with the application and we will do our best to solve it. Thank you.
Enjoy your time with Contlex Ventures!