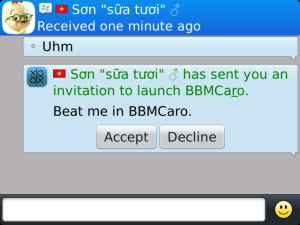 Tag:
bold
torch
Caro
9800 games
Overview :
free Caro v1.5.3 for blackberry (5.0-7.0) games
OS 5.0,6.0,7.0
size:625.23 KB
Model: Pearl 9100 3G, Pearl 9105 3G, Curve 8520, Curve 8530, Curve 8900, Curve 8910, Curve 8980, Bold 9000, Curve 9300 3G, Curve 9330 3G, Tour 9630, Bold 9650, Style 9670, Bold 9700, Bold 9780, Bold 9788, Curve 9350, Curve 9360, Curve 9370, Storm 9500/9530, Storm2 9550/9520, Torch 9850/9860, Torch 9800, Bold 9790, Torch 2 9810, Bold 9900/9930, 9981

Description:
DON'T EVER INSTALL BEFORE READING ALL OF THIS:
PLEASE READ VERY CAREFULLY!!!!!!!!!!!
Please make sure you have BBM v6 in order to run Caro. Get it here: http://blackberry.com/bbm
(It will show error "net_rim_bb_qm_platform" if your device doesn't have BBM 6 installed correctly.)
Please use Feedback button inside App World to get help. Don't ask for help in the Review. No one will help you in Review. Or read the User Guide: http://caro.dauden.vn/user_guide.php
Please EXIT/QUIT Caro entirely when stop playing for Caro updating your Record to the server. Don't use End Call button, this button only let Caro running in background.
Always check latest news on Caro Facebook: http://www.facebook.com/bbmcaro
You can play 30-50 matches/day(Each match takes around 5 minutes to 45 minutes). When the new day comes(UTC/GMT -5) your matches left will be renewed. So when you play all the available matches, please wait until the next day or head to Menu - Caro Shop to purchase the Quota-100 item and you immediately have 100 matches left to keep playing.
*********************************************
-What is Caro?
Caro is a TicTacToe like game with 15x15 grid field and 5 same symbols in a row will win.Row, Column, Diagonal)
With BBM Social Platform integration, Caro allows BBM friends playing with each other.
With Facebook integration, Caro activities are shared onto player's Facebook wall.
Users can see their scores and their opponent's scores while playing.
Users can find their ranks and others on the ranking page. See who is the best...
Users can add Caro profile box into BBM Profile to let friends see their recent activities from Caro.(Home Screen - Go to BBM - Menu - Options - BBM Connected Applications - Application Access - Edit - Caro - Edit - Check the "Post recent activities to my profile" option)
With Caro you will get more friends, more fun and more relationships.
Enjoy :)
-Requirements:
+ BIS/BES with usable BBM 6
+ Full BIS browsing package/plan
+ BlackBerry® ID (For sign in)
+ Internet connection for 3rd party applications.
+ OS 5.0++
+ BBM 6.0++
+ Support devices (93xx, 85xx, 89xx, 9000, 95xx, 96xx, 97xx, 98xx, 99xx, 91xx)
-How to play?
+ Menu - Invite friends to play
+ Menu - Invite friends to download
+ Menu – Ranking Board: find your rank and others.
+ Menu - Share/Hide my PIN: Your PIN is visible/invisible on Ranks page
+ Use trackpad/trackball/touch for your turn.
+ Win when you have a line with 5 same symbols standing next to each other
+ Draw when field is full
+ Press C or in Menu options - Send Chat for Chatting in game.
+ Menu – Connect to Facebook: Share your Caro activities onto your Facebook wall.
+ Play offline: Let you play offline with your friends.
+ After 90 seconds if it's your turn and you don't make a move then the game will automatically end and you are considered as loser.
+ After 90 seconds if the other player doesn't make a move then the game will automatically end and you are considered as winner.
+ You can share or hide your PIN from the Ranking Page. Share PIN will get more friends and play, but it might also is really annoying, then you can hide your PIN at anytime you want.
+ A short vibration notification when there is a new move from the other player.
+ A short vibration notification when a network game is started.
+ Count down 90 seconds is shown on the bottom left corner of the screen.
+ AdText is on the bottom of the screen indicates Ad, Notice or warning from Caro server, special events...
+ Menu - My Rank: Check your current rank and level
+ Menu - My Credit: Check how many matches left for you to play per day.
+ Menu - Caro Shop: Buy some items to get lot of benefits.
-Changes log 1.5:
+ 99% Bugs Free
+ The most stable and robust version
+ The fastest version
If it has problem, please send us email or using feedback button inside App World and we will response immediately.
Thank you so much and enjoy ;)