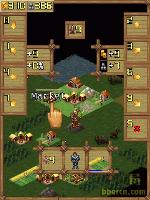 Tag:
Herocraft
Revival
storm game
Overview :
free Herocraft Revival 2 for 95xx storm game download
Model:
Blackberry 95XX Storm Series9500, 9510, 9520, 9530

Description:
Revival 2 is a huge scale strategy game that is on a par with its PC ancestors in its breadth of opportunities.
Revival 2 keeps all the best features of the genre such as mining resources, building of towns and development of science, land and sea battles, experience and upgrades. Moreover it makes a tremendous step forward offering users more than two thousand game maps! Also an important innovation is the possibility of playing together using one device. A good complement to this is the revamped political system and a large number of diplomatic tools of influence. High-quality modern graphics will allow you to examine in detail dozens of diverse landscapes, types of units and buildings. Carefully considered user interface, simple controls, advanced artificial intelligence and new game mechanics make your galaxy conquest interesting and comfortable.
Revival 2 – the universe is waiting for a new master!
Designed in the tradition of Sid Meier's "Civilization"