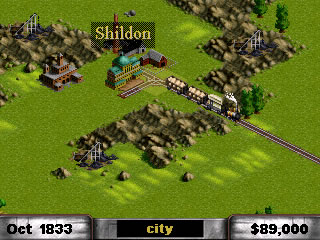 Tag:
Sid
Meier
Railroad
Overview :
Model:
Blackberry 8350i (320*240) Related Devices Model: 8500, 8520, 8530, 9300(Kepler), 9330/Blackberry 83XX Series (320*240) Curve Devices Models: 8300, 8310, 8320, 8330 / Blackberry 87XX Series (320*240) Devices Models: 8700c, 8700r, 8700f, 8700g, 8703e, 8707, 8707g, 8707v .etc /Blackberry 88XX Series (320*240) Devices Models: 8800, 8820, 8830 .etc
Description:
Enter the world of a 19th century industrial-power entrepreneur. Based on the Sid Meier's classic game series, Railroad Tycoon mobile allows players to build their very own transportation empire. Master supply and demand, overseeing the growth of small towns into large cities. Create markets that thrive with the support of your railroad. Manage trains running between 10 main cities while trying to dominate the local market to get exclusive rights to cargo. Sid Meier's Railroad Tycoon is a dream come true for the business savvy at heart!
Features:
Based on the classic Sid Meier's game series with mass market appeal.
Action packed strategy game with a variety of historical scenarios based in the 19th century.
Unlock new trains as you play in campaign mode.
Build an empire - manage trains, cargo, and your bottom line.
3 difficulty settings.
Lots of settings to customize your game play.