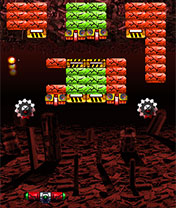 Tag:
Evolution
Arkanoid
Overview :
Arkanoid Evolution v1.0.0 for blackberry storm games

Description:
The original returns with new challenges, impressive surroundings and exceptional boss battles on the phone.
Play the newest member of the Arkanoid-family and experience how much fun has made it even then. Complete Quick Game, Time Attack, or try the Mission Mode and fight your way through a universe full of aliens in 55 different rooms and five new zones, including Cosmic Chaos, Ice Metropolis, Three Planets & Oceanis!
Game Features:
* New challenges
* Impressive environments
* Exceptional Boss Battles
* Complete Quick Game, Time Attack, or try the Mission Mode
* Aliens in 55 different rooms
* 5 new zones (including Cosmic Chaos, Ice Metropolis, Three Planets & Oceanis)
Model:
Blackberry 95XX Storm Series (360*480):9500, 9510, 9520, 9530, 9550(Storm2)