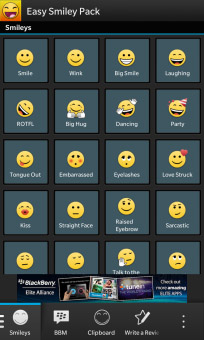 Tag:
BBM
Easy Smiley
Overview :
Easy Smiley Pack for BlackBerry® 10 by S4BB Limited has been Built for BlackBerry™ designated, underlining its high quality! Next to this achievement, the application also received an update that fixes a variety of bugs and improves the performance greatly!
Easy Smiley Pack now offers these great features:
Access to hidden smileys and emoticons right inside BBM™
680+ Smileys, flags, and ASCII art images in total
BBM™ status customization
Plugs into BBM through BBM Connected
new: cool splashscreen added to the app
Easy Smiley Pack is compatible with all BlackBerry® 10 Smartphones & BlackBerry Legacy OS 6.0 or above and can be downloaded for FREE at BlackBerry World™.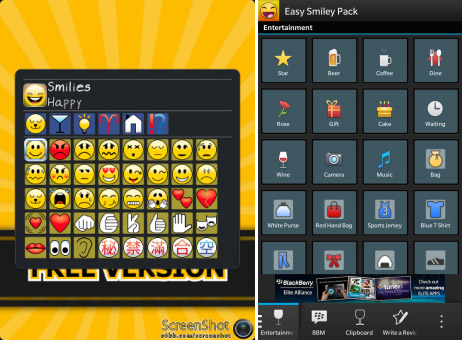 Required: os6.0.0 - 7.x , os10
Model: Blackberry OS 7.1 Series: P'9981, 9860, 9850, 9810, 9620, 9360, 9350, 9320, 9310, 9220, 9930, 9900, 9720, 9790 / Blackberry OS 7.0 Series: P'9981, 9860, 9850, 9810, 9380, 9370, 9360, 9350, 9930, 9900, 9790 / Blackberry OS 6.0 Series: 9800, 9670, 9105, 9100, 9330, 9300, 9780, 9700, 9650
BlackBerry Q10, BlackBerry Q5, BlackBerry Z10, BlackBerry Z30, Porsche Design P9982