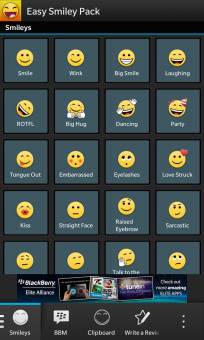 Tag:
BB10 apps
Easy Smiley
Overview :
Hey , Everyone.
S4BB Limited has released a new update for Easy Smiley Pack for BlackBerry® 10. They've improved the user interface as well as the BBM™ integration making Easy Smiley Pack easier to use. Also new is a funny animation when copying a smiley.
Easy Smiley Pack provides you with well over 680 smileys, flags & ASCII art images to give your BBM™ messages and status some extra zing! Even if your friends don't have Easy Smiley Pack installed, the smileys you send them will still show up on their BBM™.
Easy Smiley Pack is available for free at BlackBerry World™ and compatible with BlackBerry® 10 & BlackBerry® OS 5 to 7.

File Size: 11 MB
Required Device Software Operating System: 5.0.0 or higher
BB10 Smartphone: 10.0.0 or higher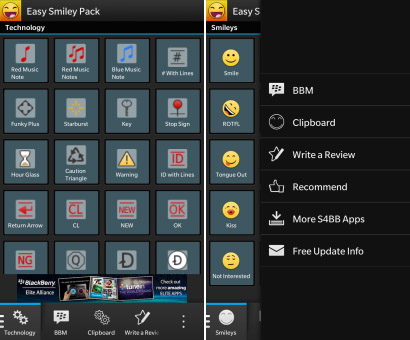 enjoy!!