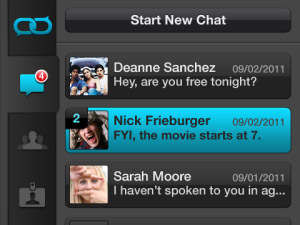 Tag:
8800 apps
Hookt
Overview :
Hookt Messenger v1.5.6 apps for blackberry os4.5
size: 2.49 MB
model: Pearl Flip 8220, Pearl Flip 8230, Curve 8300, Curve 8310, Curve 8320, Curve 8330, Curve 8350i, Curve 8520, Curve 8530, 8700, 8707, 8800, 8820, 8830, Curve 8900, Curve 8910, Curve 8980, Bold 9000
Description:
Hookt Messenger is a completely free, easy-to-use, cross-platform messenger that lets you send messages instantly to all your friends and family. Even if your friends don't have a BlackBerry, with Hookt you can text away for free with everyone on any Smartphone, tablet, computer, or really anything that has Internet! And it doesn't matter where they live, you'll be able to send free messages to friends in the same city or any where in the world. Switch from SMS to Hookt Messenger and get more out of your messaging experience!
Features include:
• Group chat – Create group conversations with up to 10 people.
• Stickers – NEW! Send dozens of cool graphic stickers.
• Read indicators – Know when your friends have received and read your messages.
• Photos – Share photos from your album or take them on the fly.
• BlackBerry Push Service – Receive messages quickly and reliably.
• Inbox integration – See your Hookt Messenger chats right from your Messages list.
• BBM (BlackBerry® Messenger) integration – Share Hookt Messenger with all your BBM friends.
• Works with WIFI and all mobile networks.
We love hearing from our users! If you have any feedback, questions or concerns about Hookt Messenger, don't hesitate to let us know:
• Support: support@hookt.com
• Website: www.hookt.com
Or follow us on Twitter:
• https://twitter.com/gethookt
If you've used any other Messenger app and are looking for something better, try Hookt Messenger.
By installing Hookt Messenger you hereby agree to our terms of service, available here:
http://hookt.com/tos
If you like the blackberry apps, Please share to your friends!